Matt's South African Roadtrip. Have you ever driven around South Africa and met Kelly Slater? Well, this long-haired legend from Perth, Western Australia has and our intern sat down with him to hear all about it!
That water looks too sharky for us!!
Matt's South African Roadtrip
South Africa sounds rad. How was it Matt?
It was. I went over first with my family for Gran's 90th…as you can imagine it was wild! After recovering from that I met my friend from Australia in Cape Town where we bought the iconic African safari vehicle, the Land Rover Defender (we named him Gibran after his previous owner!). Our main focus was on finding attractive surf and gnarly girls so most of our time was spent along the South African coastline.
Btw- Buying a car in South Africa isn't easy if you don't have South African residency or access to someone who does. So if you're considering doing what we did, either sort that all out or in reality cars are cheap enough to rent anyway! Maybe just do that.
Epic! How'd you save for it?
I saved for 9 months and during this time saved roughly two-thirds of my pay-check.
Work paid for my fuel and I was sleeping in the back of my converted Land-cruiser in the nicest park I could find in the nicest part of Perth. Sounds pretty drastic but the money I saved from not paying rent could then be spent on wining and dining at the finest wines and dines in this great city. I was able to save quite easily while still enjoying the good life! Another advantage of living out of your car or van is you're all set up to get away for weekend adventures close to home!‍
That is one creative way to save. Not sure how that would go over here in Melbourne. Did you suss out a budget?
We roughly budgeted spending $45/day each. I still have some money in my account so we must have done alright. The biggest thing we didn't do, which I would still love to do, was to spend some romantic evenings at a private game reserve — we will save this special something for that special someone.
Haha, Quick shout out to Matt @matty.sammy.adventures for anyone interested in being treated to some alone time in a private game reserve. Slide into those DM's, this offer won't last long!
Cheers man haha
Anytime, your success is our success. So $45 a day. Can you give our readers some indication for the prices of the essentials?
Of course. Eating, drinking out is approx one-third of the price you would pay in Australia and the quality, especially around Cape Town and the wine regions is very good!
Some other costs (exchange rate when we went 1 AUS$ = 10 Rand):
Bed at backpackers = $15 — $20
BYO tent at backpackers = $8 — $12
1-litre loooong neck Castle Lager from the local liquor store aka shebeen = $2
Decent bottle of local wine = $5 — $10 
Afriski slope pass + hire gear for one day = $100
Tequila often given to you, against your will, for free, because "David Warner and Steven Smith are dirty cheats"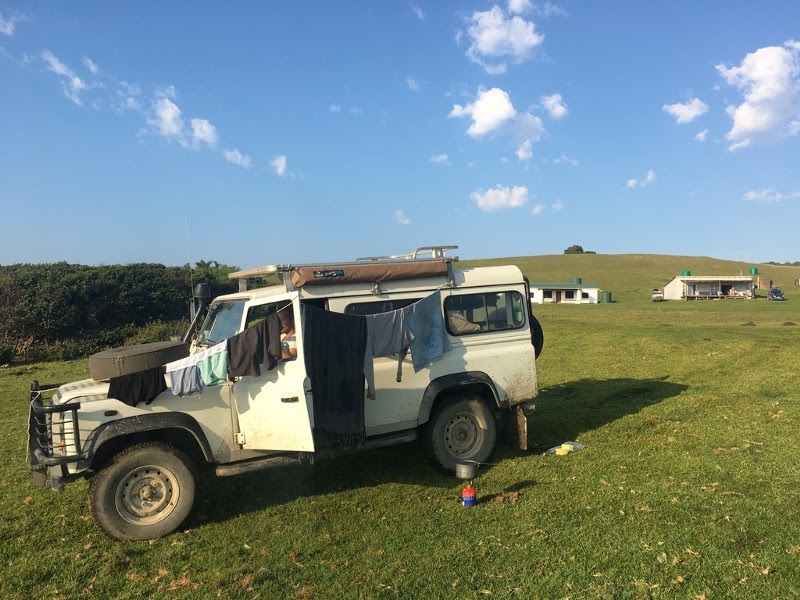 And how'd you pay for it all?
Because of the local $5 ATM fee and lousy exchange rates from our banks, my mate and I set up a system to maximise our cash. I used my debit card from my bank in Australia while my mate generally paid for things using his credit card. I'd withdraw lumps of cash (Rand) out for when we needed to use cash and kept tabs of it all on the App Splitwise. It was frustrating when you know you are getting ripped off by the banks.
Again….cue Pelikin Card! Any minute now.
Sick. Can't wait.
How long would you recommend people go for?
Cape Town & surrounding wine region (Franschhoek & Stellenbosch), Safari and the coastal "Garden Route" from Cape Town to Port Elizabeth — minimum 2 weeks, 3 weeks would be ideal.
Backpacking surf trip like we did — you can really stay as long as you want but we found that after being there for just over 4 months we were ready to come home.
And finally, a highlight, your rating out of 5 and anything else people should know?
‍
Highlight We got to surf with the bald-headed surf lord, Kelly "Old Salt" Slater at Jeffrey's Bay during the World Surf League contest there. Rad times!
Rating 4 stars
FYI Tip at least 20% at cafes, restaurants, bars etc. People working in hospitality in South Africa often don't receive wages and rely solely on tips!
If you're like Matt and you're up for a chat about your experiences abroad drop us a line at hello@pelikinsquad.com or hit us up at pelikin.co. Plus if you enjoyed reading about Matt's South African Roadtrip, then let us know in the comments below!
Pelikin 
Haven't signed up to Pelikin yet? Do so now on either your Apple or Android device to discover all the benefits of travelling with Pelikin. Including the spit bill feature, group tabs feature, freeze card, Travel Fund  and so many more.
Apple Obsessed? Get Pelikin now 
Android Lover? Get Pelikin Now